Logo design and Branding for Signature Events
I am so excited to finally share this project with you. You know that it`s going to be a fun project when the customer tells you she imagines her branding to be black and gold and she will be going for gold foil business cards with goldfoil corners. This was what Kerrin told me on out first meeting regarding her branding. So hell, yes, tell me more, please.
The Branding board
So we set to work and defined what she wants her business to feel and look like, what kind of customers she wants to attract with the new branding. It was pretty clear that she wanted some serious oompf for her brand. Being a power woman, she needed a strong look, not too feminine and romantic. But at the same time Kerrin wanted her branding to ooze elegance and style, modern, a little edgy, but still very appoachable. And this is what I came up with.
Logodesign
Kerrin finally decided on this Logodesign for her Event planning agency. And honestly, I couldn`t be happier with how it turned out. I am delighted that she picked this design.
Goldfoil business cards
Black business cards with goldfoiling on both sides  and a goldfoil edges. Need I say more? This card really is a serious statement. Love it so much.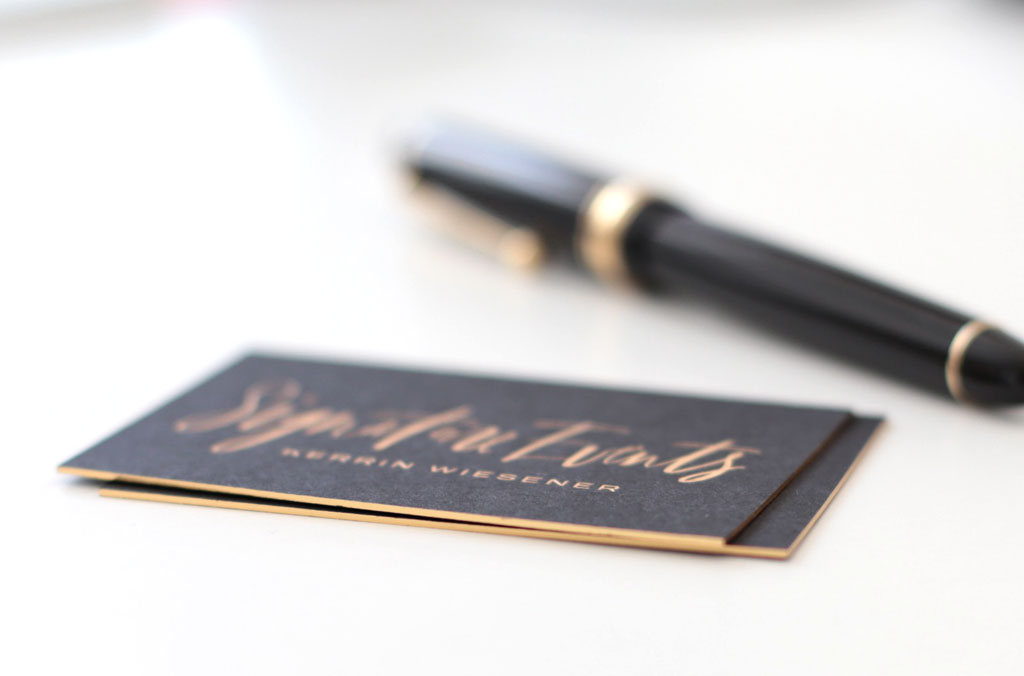 The Website
Relaunching your business always calls for a new website. Kerrin decided to go for a very clean and chic layout. And yes, I am so happy that I actually got to do some calligraphy for her new image film. So I urge you to have a look for yourself and check out her new site kerrinwiesener.com and have a look at her work. Click here for more.